Full professorship for pioneering engineer Hamieda Parker
Professor Hamieda Parker remembers how she stood out in her first-year chemical engineering class. It was 1989, on the brink of a decade of seismic political change in the country. Professor Parker was the youngest in the class, a woman – and a woman of colour. Over the years she's known prejudice and lost opportunities. But University of Cape Town's (UCT) new full professor has also shaken up attitudes and beaten a path for other women.
Parker is now the UCT Graduate School of Business' (UCT GSB) first woman professor; one of three women* in the Faculty of Commerce appointed to full professorship, via the most recent ad hominem process. And news just in is that she is also the UCT GSB's first woman to achieve a National Research Foundation (NRF) rating.
Her research spans operations management, supply chains, data analytics, innovation, entrepreneurship and new product development. It's a long way from chemical engineering but innovation has been the golden thread linking all her work, she said; first as an engineer and then as the focus of her doctoral research and later scholarship.
"I feel that the university has recognised my work and efforts."
The ad hominem promotion is a welcome endorsement, she said.
"I feel that the university has recognised my work and efforts through this award of a professorship, and I am appreciative."
She added, "These accomplishments are important to encourage more women to reach professorship and NRF rating. I believe that seeing women succeed can help to motivate other women in the faculty to succeed."
It's taken hard work and gritty determination and a canny sense of when to follow her changing interests. In this, she's been supported by a dedication to lifelong learning.
Flair and innovation
Parker's aptitude for innovation and design showed up early in her student years. In her second year, she got a vacation job with local polymer and textile manufacturer South African Nylon Spinners (SANS). In an interview for the Department of Chemical Engineering's centenary publication, she said, "I was assigned to a project to investigate the unexplained pressure losses across a polymer drying system as well as the heat exchange efficiency across the system."
"Unlike my classmates I didn't have contacts in firms that employed large numbers of engineers."
She aced that project and SANS invited her back in her third year, and snapped her up after graduation, much to her relief.
"I'd started to feel very worried about my future employment. Unlike my classmates I didn't have contacts in firms that employed large numbers of engineers, like De Beers or Anglo American."
As SANS's new product development engineer, Parker was assigned to head up their most cutting-edge project. Again, her innovative approach paid dividends. The result was a new yarn-making machine that resulted in a bonanza of new business from Europe.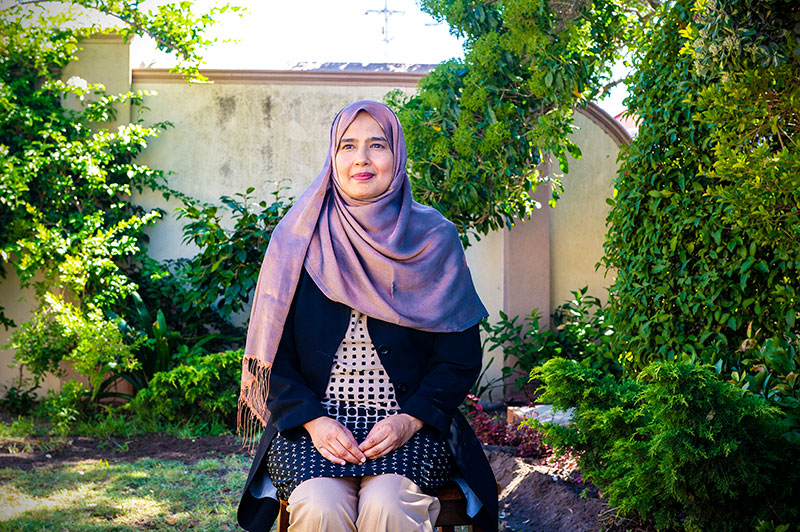 But Parker soon realised that her business and management skills were lacking. She left SANS to return to university on a scholarship, enrolling for an MBA at the GSB. (In her wake, SANS employed three other women engineers over the next three years.)
Awakening and academia
"The journey of learning is continuous," Parker often tells her students, encouraging them to enhance their knowledge and skills even after they have graduated, particularly in different fields.
Vacation work is essential too, she advises them. Her stints with SANS helped her put the theory she was learning into practice – and taught her other useful skills.
"I am passionate about entrepreneurship and innovative as strong levers for development."
Her MBA (awarded in 1997) took her deeper into innovation and product development and the collaborative aspects of the processes.
"I am passionate about entrepreneurship and innovative as strong levers for development," she said.
Parker's supervisor, Dr Amy Marks, encouraged her to ratchet up this research to a PhD. Her doctoral thesis is titled "Collaborative New Product Development: A Study of Governance and Outcomes".
That came with another opportunity: a Linbury Doctoral Fellowship to do part of her PhD at the University of Oxford. (The Linbury Trust is a charitable trust, established by Lord and Lady Sainsbury of Preston Candover KG (John Sainsbury).
"In my work as an engineer, I was often working on developing new products and alongside this I would work on improving processes to reduce waste and increase efficiency. My doctoral research examined innovation in British technology-based firms.
"It has been very interesting to see how certain principles in innovation and entrepreneurship can be applied across varied contexts – from impoverished communities to firms in developed sectors."
Parker graduated in 2004. By then she had been lecturing at the UCT GSB for six years. She rose steadily through the ranks and was promoted to associate professor in 2012.
Parker's current research looks at how small-scale entrepreneurs and large corporates innovate products and improve their processes. And her more recent work is looking at how to create a climate within the organisation (whether it is large or small) that encourages innovation.
Learning alongside students
Along with her commitment to research, Parker has developed into a passionate teacher and supervisor. Since 2008, she has supervised 68 MBA theses, 38 achieved with distinction.
"I am passionate about learning about different contexts and challenges. I find that in studying new phenomena I am learning alongside the student. I encourage my students to employ rigorous research practices, and this allows them to extract much value from their projects.
"I would encourage the university to look at how they could make sure that all new women faculty have access to support and mentorship."
Mindful of race and gender barriers at the UCT GSB too, Parker founded the UCT GSB Transformation Forum in 2003 and chaired it until 2004. She returned to the chairperson role in 2020. It's a powerful lobbying group for transformation.
But there are still mountains to climb.
"Women are now much more represented at the university than previously. However, women of colour are often still at a disadvantage as they are not part of the networks which give them access to useful resources. These resources are thus more difficult for women to access."
Women role models at the university are essential, she said.
"I would encourage the university to look at how they could make sure that all new women faculty have access to support and mentorship. It would also be helpful for the university to assist women faculty to access the resources that are essential for their career development."